Would you like to save time, delegate the tracking of your receivables and protect yourself against the risk of payment default, while also increasing your working capital? That's exactly what our factoring solutions can give you!
How does it work?
You deliver goods and services to your clients and send your invoice.
You transfer your receivables to us.
If you opted for a factoring solution with risk cover, and if your client is unable to pay the invoice, we will reimburse you at the agreed time.
You can benefit immediately from an advance of up to 85% of the invoice amount.
We take care of the collection of your receivables.
As soon as payment is received from your client, the balance of the invoice is paid into your account.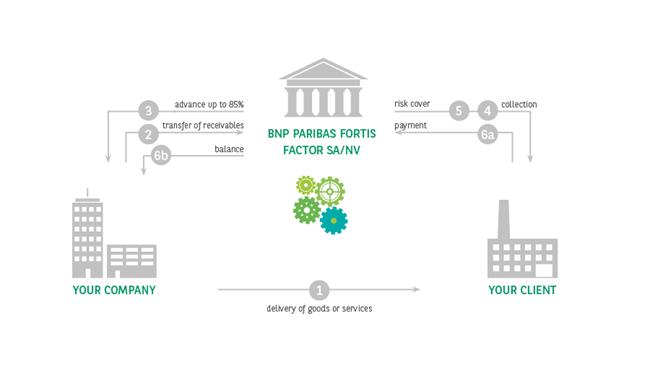 Advantages
You save time because you no longer have to manage your receivables
Enhanced solvency through faster payment of receivables
Enhanced protection against defaulters thanks to 100% coverage of the risks
Increased working capital without additional guarantees thanks to prefinancing of outstanding invoices
Constantly updated information on your portfolio of receivables (invoices, credit notes, payments, disputes, etc.) thanks to an online tool that is unique in the market.
Good to know
Modular solutions: we will find you a solution tailored to your needs and specific details such as your turnover, the number of invoices and debtors, the payment terms, real payment periods, etc.

| | | | | |
| --- | --- | --- | --- | --- |
| | Debtor management | Debtor tracking | Risk cover | Prefinancing |
| Comfort Factoring | x | x | x | Max 85% |
| Recourse Factoring | x | x | | Max 75% |
| Comfort Service | x | x | x | |
| Single Service | x | x | | |
| Credit insurance | | | x | |

Recourse Factoring can be an attractive solution if you already have a credit insurance policy protecting you against the risk of payment default.
Factoring is aimed at businesses with an annual turnover of at least € 500,000 (B2B receivables only).
Rates tailored to your company.
Useful link(s)
Factoring products and services are offered by BNP Paribas Fortis Factor NV/SA, Belgian market leader and 100% subsidiary of BNP Paribas.