Alternative financing, driven professionalism and external expertise – these are the three major advantages of private equity. Alongside innovation, flexibility, mobility & infrastructure and actionable work, they serve as the main drivers of continued economic development.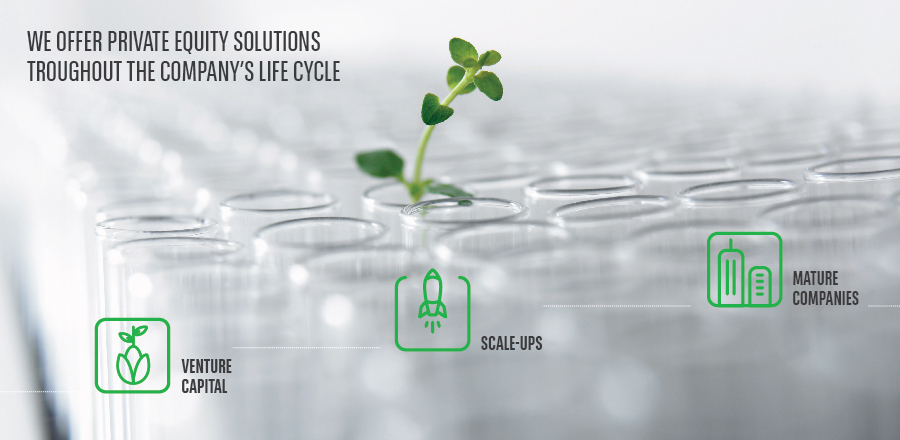 Although private equity is still a fairly modest phenomenon, it is an excellent way of giving the economy some oxygen. It offers perspectives for businesses in any phase of the life-cycle, from new start-ups to established companies. BNP Paribas Fortis is convinced that this form of financing is destined for strong growth and therefore considers private equity as one of its main priorities for the future.
Our activities
Besides direct investments in well-established companies with a proven business model, BNP Paribas Fortis Private Equity also invests in diversified private equity funds with a Belgian perspective.
Direct investments
Focus
Traditionally, BNP Paribas Fortis Private Equity focused on international transactions for larger enterprises. However, today we offer tailor-made private equity solutions along the full company life-cycle, with investment amounts ranging from 1 to 50 million euros ('sweet spot' between 3 and 25 million euro). This involves long-term participations – with a target holding period of 5-7 years – in mature and profitable enterprises with an experienced and committed management.
We opt to invest in niche players with significant growth perspectives who can switch gears thanks to our investment. We participate in takeovers, crucial projects, buy-outs, buy-ins, tapping new markets, etc. In short, the possibilities are endless.
Financial support in different shapes
Minority participations
We provide equity financing in return for a (significant) minority shareholder position. Our input is not only financial: we attach great value to the human aspect and strive for viable relationships with the management. We provide partner companies with expertise, sector knowledge and networks. We always adopt a significant advisory role, though - management stays in control.
Mezzanine debt financing
By offering mezzanine financing solutions, we enable the company to strengthen its capital structure with limited or no shareholder dilution.
Fund investments
Established companies
Besides direct participations, we increasingly support established companies by investing in private equity funds with a Belgian angle, such as Vendis, KeBek or Ergon. They handle market segments we don't directly operate in; thereby adding to our range of financing options. Next to more diversification, such partnerships often lead to interesting co-investment opportunities as well.
The next generation
If we really want to strengthen the economic fabric, we cannot ignore start-ups and young, promising small businesses. We support these companies by contributing to university spin-off funds such as Theodorus (ULB), Gemma Frisius (KU Leuven), Qbic (UGent-UA-VUB-ULiège) or Vives (UCL) and to venture and scale-up / growth capital funds such as Mangrove, Fortino Capital Growth and Life Science Partners Health Economics.
A success formula
The results don't lie: companies that receive support via private equity are generally more innovative, more productive, invest more in R&D, are quicker to operate abroad and are therefore more profitable for the shareholders. In consultation with the existing shareholders and management, BNP Paribas Fortis Private Equity offers financial solutions of the highest standard.