Solution
Saferpay e-commerce
Do you already have an online store? Or are you thinking about opening one soon? Then you already know that you need a payment page that works quickly and securely. For your own convenience as well as that of your customers. With Saferpay eCommerce you can make sure that any cart that is filled online can be paid for there and then .
How does it work?
Before you can receive payments, you need to integrate the Saferpay payment page with your online store via a simple plug-in.
Once it is integrated, your customers can pay for the orders in their online shopping cart.
They are directed to a payment page where they can first choose their payment method and then pay.
You receive their payment the next working day on your BNP Paribas Fortis account.
Using the online Saferpay portal, you can track and manage all the transactions in real time.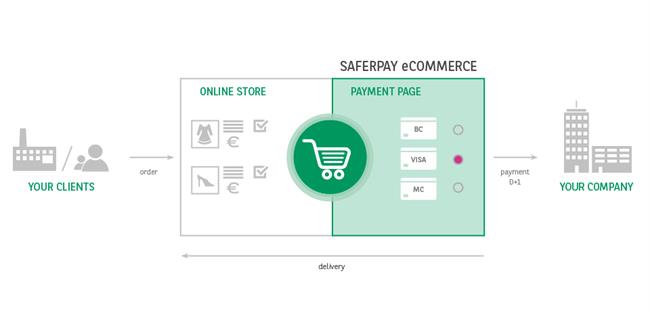 Advantages
Simple : the payment page is easy to integrate in an online store (using a free of charge plug-in).
Secure : the payment page complies with the highest security standards.
Fast : you receive your money on the first working day after the payment.
Universal : the payment page accepts most common payment methods.
International : your customers can select whether to pay in euro or in their own currency.
Flexible : your payment page can be customized to match the look & feel of your online store. Both the online portal and your payment page are responsive and adapt to a PC, laptop, smartphone or tablet.
Good to know
BNP Paribas Fortis is acting in this sale as an agent for SIX Payment Services, which provides the installation, day-to-day services and after-sales support.
Alongside Saferpay eCommerce there is also Saferpay Business. That offers extra functionality: it can link to your ERP or accounting software package and it automatically recalls payment details for returning customers.
Saferpay eCommerce is adapted for use on mobile devices (such as smartphones or tablets) and is your go-to solution if you are active in M-commerce.
Do you already have a payment page, but you would like to improve how your transactions are processed? If so, contact your relationship manager for a detailed analysis of your needs. We can offer you suitable payment solutions for all your sales channels (online store, representatives, physical store, etc.).
Saferpay eCommerce and Saferpay Business are SIX Payment Services products.
Saferpay e-commerce